Home>>
American singer Mark Levine: singing my China stories to the world
By Xian Jiangnan, Walid Abdallah, Wang Jing, Tang Song (People's Daily Online) 18:01, April 23, 2021
Though an American by birth, Mark Levine knows China more than one could ever imagine.
Born in 1948 in Los Angeles, California, in the United States, Mark Levine is now a singer, song-writer and English teacher. After working as a volunteer in low-income communities in the US for nearly 30 years, Levine came to China some 16 years ago, starting out in a prefecture-level city as an English teacher. Levine didn't realize at the time that he would soon come to fall in love with the country and end up staying continuously for the following years thereafter.
"My first memory related to China is my parents telling me not to waste food because many children in China were starving," Levine recalled. But when he first came to China in 2005 to Huai'an City, in east China's Jiangsu Province, he saw a China much different from the one in his childhood memories.
Throughout the years, he has remained committed to bridging the cultural gap between the West and China, having been dubbed by some as a "traveling troubadour of the 21st century."
Singing China stories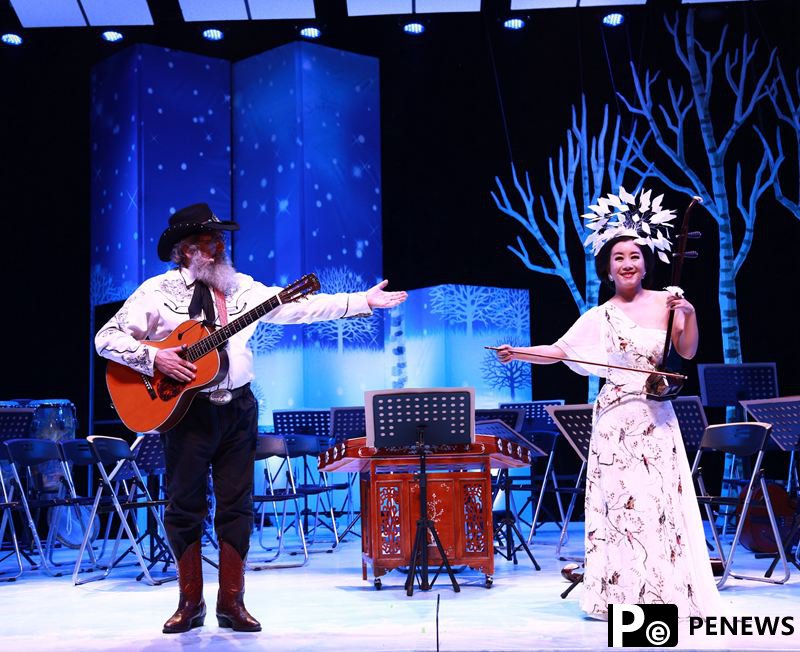 Mark Levine performs with his music partner Fu Han on the stage. (Photo provided by Mark Levine)
As a music buff, Levine likes to write songs and sing along to them with his guitar. So far, Levine has written more than 70 songs about China, with a wide variety of themes such as traveling, migrant workers, Chinese culture and natural landscapes.
Levine also formed a music duo together with a Chinese woman named Fu Han, naming the ensemble "In Side Out," with the duet fusing Eastern and Western singing styles and musical instruments together into one combined whole; or, to put it more plainly, a duo, "just like the inside and the outside of a T-shirt, but it's only one shirt."
Levine considers writing songs to be a natural way to convey his thoughts and feelings about the world around him. "I saw things changing right before my eyes. And suddenly lyrics would come to me and I'd write them down."
"Sometimes the lyrics come relatively fast, but sometimes I would get stuck. Then I'd put it aside first and finish it later," he smiled. Levine said one of his songs, which happens to be about the Terracotta Warriors, a song which he started writing 3 years ago, was only just recently finished after receiving a sudden flash of inspiration.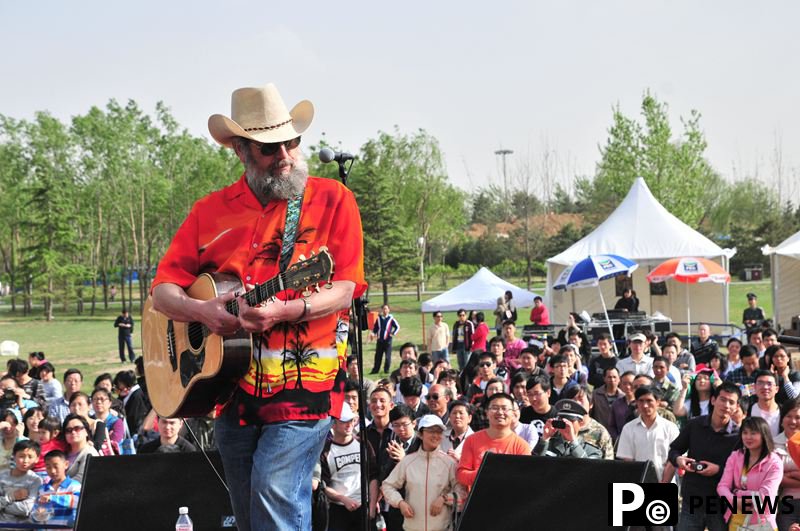 Mark Levine performs at Haidian Park in Beijing. (Photo provided by Mark Levine)
Having served as a first-hand witness to China's development, Levine has also had the chance to put pen to paper and record some intimate accounts of critical events in the country's history.
In 2020, the unexpected outbreak of COVID-19 overturned Levine's applecart and compelled the song-writer to make a sudden change of plans. During that time, he was mostly stuck inside his apartment teaching online classes for three months, which was a new kind of experience for him.
Throughout the year, he kept in contact with close friends and acquaintances he knew across China and abroad, having made an effort every day to pay attention to the news feeds from both inside and outside of China. He encountered and learned how the country had responded to the encroachment of the lethal virus and soon decided to compose a song about it to add to his large collection of musical stories about his life in China, a song which he penned with the title of "Together we must take a stand – fight the novel coronavirus."
"Health workers treated patients case by case. And Hubei Province was shut down, every city and town. People sacrificed to stop the illness' flow…," the lyrics chanted.
"Everybody worked together. It wasn't just the actions of the government; there was a collective response by the people," said Levine.
Levine said that Chinese people had a collective sense that "we are all in this together," an advantage that some countries have lacked in their fight against the deadly virus. "We see in many parts of the world where people are saying 'I'm not gonna wear a mask' or 'I'm not gonna get sick.' But what happened in China was that there was a stronger recognition of one's collective responsibility."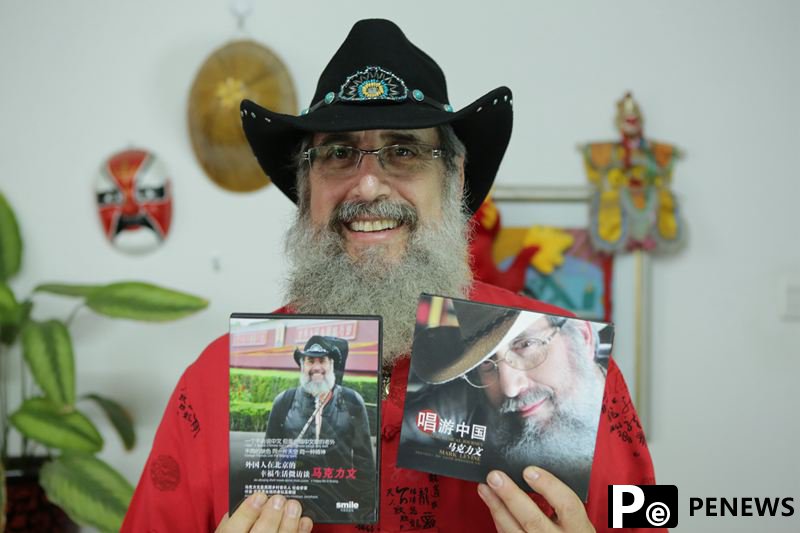 Mark Levine shows off his music albums. (Photo provided by Mark Levine)
This sense of responsibility has also been deeply rooted in Levine's mind. Now, Levine opts not to travel to those parts of the country that are considered high risk areas and has adopted the habit of wearing a mask wherever he goes. "Maybe I'm not sick, but maybe I've got it and just have no symptoms, so I could potentially pass it onto others (if not wearing a mask). I see other people are being responsible and I need to be responsible, too."
"I've never felt unsafe in China about anything, including COVID-19. I'm glad I was here," he said.