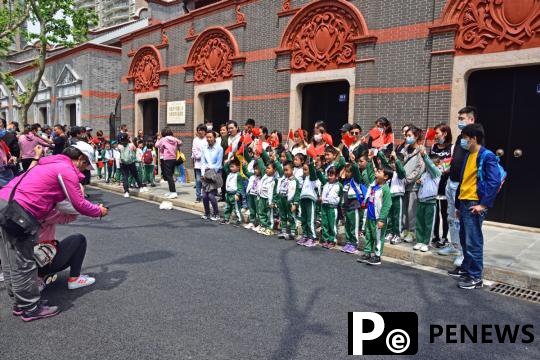 Visitors take pictures in front of the Site of the First National Congress of the Communist Party of China and its memorial in Shanghai on April 28. (Photo by Shui Zhaoyue/for China Daily)
The number of young visitors to the Site of the First National Congress of the Communist Party of China and its memorial in Shanghai has been rising sharply in recent years, officials at the venue said.
"A century ago, the average age of the 15 representatives-13 domestic delegates and two from the Comintern-who participated in the CPC's First National Congress in this 18-square-meter sitting room was 28," said Yang Yu, an associate research fellow at the memorial.
"People of the same age group today are showing rising interest in understanding the history of the CPC's founding in the old days and carrying on the mission during the new times."
She said the site, a typical Shanghai house with a courtyard and stone-framed gates known as shikumen, was where the CPC was conceived, born, and went the extra mile to explore its initial path of development.
A century on, the building has retained its original look, becoming a landmark of the city's Red history and a vivid textbook that allows young people to learn about the Party's past and present, Yang said.
Some young people today are involved in establishing various types of startups, Yang said.
One young visitor, who was a university student, told memorial workers after his visit that he felt the Party's pioneers were working on the greatest entrepreneurial project a century ago-the founding of the CPC and later the new China, she said.
The popularity of the site and the memorial has risen since President Xi Jinping, who is also general secretary of the CPC Central Committee, visited the site in October 2017.
Data from the site shows it averaged between 500,000 and 550,000 visitors a year before 2017, but that figure surged to 1.42 million in 2018 and 1.46 million in 2019.
Yang added that the site of the congress was identified in 1951 from more than 2,000 identical shikumen buildings in the block and nearby after a search lasting more than half a year.
Venue officials said renovation of the site and the memorial has been completed after five months of effort and they will be opened to the public before July 1, when the centenary of the founding of the CPC, now the world's largest political party with nearly 92 million members, will be celebrated.
During this month's May Day Holiday, many people from Shanghai and other parts of China visited the site. A square in front of a new extension to the memorial, across the street from the old one, was opened to the public.